My wife an I went to Lowe's to look for some materials to build her a desk. While walking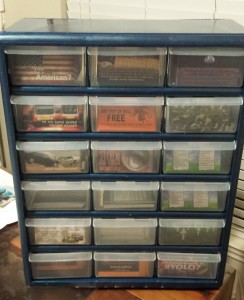 around the store we ended up talking to one of the employees about what we were doing and he was giving us some ideas on how to build it. He pointed us to some items in other parts of the store. Before we went to go look at those items, I handed him a tract and he began to read it.
Just as I was about to walk off, I looked on the shelf and saw something I'd been looking for some some time – a rack that looked perfect for organizing Gospel tracts! While I have some boxes to put tracts in them, many of the bins to hold them are too big for the actual tracts to fit well. This one looked like the drawers were just the right size for the tracts to fit. I was looking at it and trying to figure out if the tracts would fit properly about the time he finished reading the tract.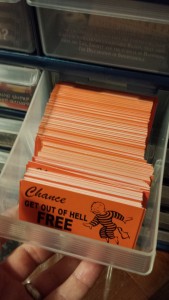 So I asked him what he thought of the tract. He said he had heard that message before but that he didn't believe it. He said he was somewhere in the middle. There is a lot of hurt from past 20 years of organized religion but he did not go into what it is. He gave the tract back to me by setting it on the product that I was looking at. I gave him my business card and offered to by him breakfast and talk more. I hope and pray he will call.
After that I was trying to figure out if the drawers would work. I was trying to slide a tract in to see and it slipped and feel into the package. As I was trying to get it back out, he said, "why not just leave it in there for the person who buys it." OK! You don't have to tell me twice. So I left it in there and bought a different one!
The cabinet is a Stack-ON 18 Drawer Storage Cabinet. I bought mine at Lowe's for $19.96.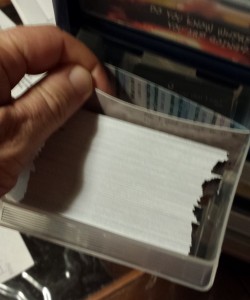 The drawers are more than 6 inches deep. So there is plenty of room for 200-300 tracts per drawer. Each draw also has an area where you can divide it into two spaces. Or if there are less tracts, you can just fill the front. I used a couple of bookmarks to make dividers for a few of the drawers.