While jogging during vacation between Christmas and the beginning of the new year, I
believe the Lord impressed upon my heart that He wanted to see at least 100 Christians at a time, going door to door and preaching His gospel. I shared this with my brother in Christ, Carl and he upped the scope of the challenge by adding these points: Are there 100 people at a time who would be willing to go door to door? Are there 100 groups who would be willing? Are there 100 groups in 100 cities who would be willing? Are there 100 groups of 100 men and women in 100 cities who are willing to go door to door on a regular basis to share the gospel of Jesus Christ with a lost and dying world?
I immediately began to question the Lord by saying; Lord, You can't mean 100, much less this request? I have been witnessing in one way or another for over 12 years now and until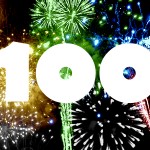 just recently, I have never had more than about 16 people join me in a witnessing outreach. I began to doubt the Lord and reminded myself of a conversation that took place between Abraham and the Lord at Sodom and Gomorrah, as Abraham pleaded with the Lord over sparing any righteous ones from destruction. As you may know, according to Romans 3:10 "there is none righteous, no not one." That is; there is none who are innately righteous. Therefore, Abraham must have been asking if there were any who could be made righteous because they would repent and believe in God and receive His imputed righteousness, but the Lord said there were none!
In a similar way, I believe that the Lord is asking us to challenge the body of Christ by asking if there are at least 100 Christians in at least 100 cities in this nation who by the
blood of Jesus, have been made righteous; 10,000 Christians who would step up and step out on a regular basis to join the Lord in saving those who are lost, without Christ and the hope of eternal life? For an authentic believer and follower of Christ, we will not find any reasonable or valid reasons why we should not take this challenge for the glory of our great God, but I will tell you at least three good reasons why we should.
The Lord has commanded us to do so! Yes, it was never just a request; it was and still is a command! See: Mathew 28:19. Not to mention, it has always been His highest priority. Jesus said, " the Son of Man has come to seek and save that which was lost." Luke 19:10. It was the whole reason for His going to the cross! If this was His most important mission and our desire is to please Him, why is it not our most important mission?
Again, I believe that the Lord has impressed upon my heart that we have to do something to counteract the raging torrent of evil that plagues this nation, we Christians and our families today! If Jesus is the answer; why are we not boldly proclaiming Jesus? He is the only One who can start a revolution! He is the only one who can save a soul! He is the only one who can save a nation, a people and a world! We can no longer remain silent! We must tell the world about our great Savior and we must do it now! I truly believe, if we don't take a stand against evil, we will soon be overcome by it! I can't think of any better way to make a tremendous impact for Christ than to boldly proclaim Christ to this nation, before it is too late! Romans 12:21 " Do not be overcome by evil but overcome evil with good."
Finally, brothers and sisters in Christ, I ask you; is He worthy of our adoration? Is He? Yes, He is more than worthy!! How then can we refuse to make Him known? His love compels us! He is our motivation! And our love for Him should destroy any fear that we may have of being rejected by man. The truth is, we are not the one being rejected anyway, He is; and I for one have decided that I am far more concerned that I may have words to speak to Jesus concerning the stewardship of His gospel, than will I ever have to any mere man!
In closing, we wanted to remind you of the simplicity of sharing the gospel by disclosing our latest approach. In the last 3 times going door to door; after knocking on the door or ringing the door bell, we will simply introduce ourselves and ask the homeowner if we can explain to them how much God loves them. If they decline, we ask if they will receive a tract. If not, we will move on knowing that it is always a good thing and never an inconvenience to share God's love. However, 80% or so have allowed us to share the gospel. We will then recite John 3:16. If you can do that; you have successfully shared the gospel, glorified God and will experience great joy in doing so! We tell you this to remind you that you are very capable of doing what God has called us all to do! I also wanted to tell you that we are convinced that God will bring this challenge to fruition. As of 2-12-13, 18 groups around the country have already responded and decided to start door to door outreaches in their cities for Christ! We are praying that for the Lord's sake you will also join us in this glorious endeavor! Are you one of the 100? If so, please contact Bezeugen Ministries.
All for Christ' sake,
Todd Cormier / Carl Kalbfleisch