Since May 2010 we have been meeting on the First Thursday of each month to pray for our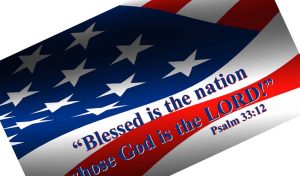 Nation, Leaders and Revival.
We will be hosting our First Thursday prayer meetings at several locations (Dallas and Carrollton) which can be found on Meetup. If you'd like to participate at another location, please contact us and we would be glad to add your location to the Meetup group.
Each month we provide a suggested verse to guide your prayer time. This month we recommend using Psalm 33:12:
Blessed is the nation whose God is the Lord,
    the people whom he has chosen as his heritage!
This verse appears on the front of a new tract released to the Bezeugen Tract Club this month. The back reads as follows:
The nation is a collection of people. God is calling each one to turn to Him. Then as a whole to serve Him. Do you need to turn to God? Ever told a lie? Stolen anything? Hated anyone? Innocent or guilty? God cannot be in the presence of sin. "For You are not a God who takes pleasure in wickedness, Nor shall evil dwell with You" (Psalm 5:4). Heaven or Hell? God does not want you to go to Hell (1 Timothy 2:4). The Good News is that 2,000 years ago, God sent his Son Jesus to earth. Jesus being fully man and fully God fulfilled the Law. He willingly died on the cross to pay for your sin, then rose from the dead defeating sin and death. Repent and believe the Gospel. God will forgive all your sin and grant you eternal life (Mark 1:15, John 3:36). Read the Bible everyday starting with John, Acts, Romans and James.
Let's use this Thursday as a call to repentance for our nation, especially for the 300+ million individuals who make up its population! See you Thursday!