You've heard of PokemonGO! Maybe you are even one of the millions of people searching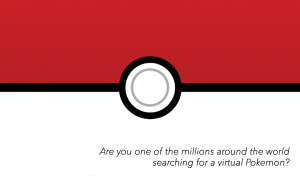 for virtual Pokemon using your smartphone. We've found the game to be a great ice breaker to the Gospel by finding people playing the game in parks, malls and every where we go. One Million Tracts even has a Pokeball tract that you can give to these game players!
Jesus gave two commands to Go!
"Go into all the world and proclaim the gospel to the whole creation." Mark 16:15

"All authority in heaven and on earth has been given to me. 19 Go therefore and make disciples of all nations, baptizing them in[a] the name of the Father and of the Son and of the Holy Spirit, 20 teaching them to observe all that I have commanded you. And behold, I am with you always, to the end of the age." Matthew 28:18-20
So what are you waiting for? Let's go!

Here is how BezeugenGO works.
Download an app to track your walking. I like MapMyWalk. But there are plenty of similar apps that do the same thing.
Start the app
Click start workout to track you walk
Go door to door and distribute door hangers!
Click stop workout. The app will save the map of where you walked and even report stats like distance, etc.
If you need door hangers you can order any of our designs at One Million Tracts. There is even a space that can be customized with your church, ministry or personal contact information. To get started, we would be pleased to send you a flat rate envelope of door hangers (50 or so) for a donation of any amount to Bezeugen Ministries.
So what would happen if you were to start from your house, go out and walk 30-45 minutes per week and simply put out door hangers, pray for your neighbors and the ones that you come in contact with you tell them what you are doing. What would happen if you did that every day? You'd get some exercise for sure. Most all of us need that. You'd probably reach 100-500 houses a week with the Gospel. Everyone needs that!
So here is the challenge. At least once in the month of August, go out into your community, walk for at least 30 minutes and distribute door hangers or tracts to people's doors. Then on Spetember 17th, join the 100K in 1 Day event where people from around the country will be working together in their communities to share the Gospel with 100,000 people in one day! Then keep going at least once a month.
If you are up to the challenge email Carl and let him know you are in! We will send you door hangers to get you started, add you to our door to door map and even add you to our meetup group events if you'll let us know when you are going!

Are you ready to Go?  Email Carl to get started!