A psalm and a prayer is a model for a prayer meeting that we have found to be very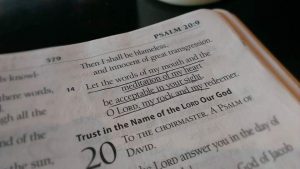 effective. It was introduced to me by Pastor Luke Biggs at Prince of Peace Lutheran Church in Carrollton, TX. The church had a prayer list that was maintained by someone on staff with prayer requests gathered from people in the church who submitted them during Sunday morning worship or via email, etc. The Pastor would pick a Psalm and then people would come to the prayer meeting. We held ours at 6:30AM on Saturday morning, but any time that works for your group would be fine. Here is how the prayer meeting would work.
Pastor would divide the Psalm by however many people were there in attendance and have each person read a verse or two. Next he would give each person a chance to comment on their thoughts on a verse that stands out to them. Finally Pastor would share some thoughts on the Psalm based on his preparation in advance.
Now it was time to pray. Using a printed prayer list from the church we would be given updates on some of the prayers. For example if someone is sick and in there was an update we could make note of that update. Finally there was an opportunity to contribute our own prayer requests.
When we prayed normally someone would "lead off" and someone would "close". Pastor would normally designate someone for these roles. He might suggest an order of people praying within that like counter clockwise or clockwise. The idea is each person got an opportunity to pray.
After Pastor Biggs received a call to another church, I lead the Psalm and Prayer group for nearly a year. Rather than preparing the comments on the Psalm myself each week, I would ask for volunteers to lead each week. Then those leaders would play the Pastors role to coordinate that weeks prayer time.
I hope and pray that this model of prayer may be helpful in your church, ministry or small group.