This was the sixth year for Bezeugen Ministries to participate in the outreach at the State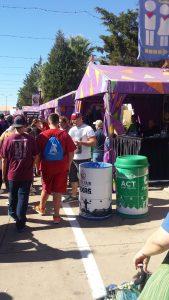 Fair of Texas. We were again able to partner with Gospel for Asia who helped us staff the booth with students from their School of Discipleship. During the day we not only share the Gospel one on one, we also hand out thousands of Gospel tracts. We often see people walk off down Nimitz Blvd reading the tracts so we know people are receiving the Gospel even if they did not stop to listen for a one on one conversation.
I've believe we handed out around 10,000! Gospel tracts. There was at least one salvation! Praise God! I personally witnessed to several who took the Gospel of John and copied of my Truth May Impact Your Opinion book. I have a picture from about 2PM looking North on Nimitz BLvd. It's wall to wall people. On one hand as I remember the booth I think of all the faces and thousands of tracts that were put into peoples hands. I remember seeing tracts on the ground up and down the street so I imagine people read them, then discarded them. Some were torn up, so they may have had a troubling or angry response. Yet there were not 10,000 tracts on the ground, so some must have kept them! On the other hand I can recall specific faces of a Jew, a JW and an atheist that I talked to. I can remember names like a kid named Drake who despite has grandfather being a pastor told me "I wouldn't tell him this but I believe in science". After a 10 minute conversation he agreed science and the Bible are not necessarily incompatible and took a Gospel of John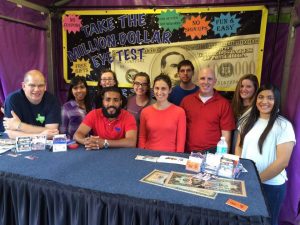 with him. And I remember the face of a 12 year old girl who I taught the ten commandments to. At one point I was talking from the booth to the back to get some more tracts when I heard a voice say "wow, they handed me a gospel tract." When I looked up three young twenties friends were there asking what we were doing. I told them. The guy asked, "do you pray with people?" I said sure we will. He had injured his neck and asked for prayer. Then I was telling them about Bezeugen and some outreaches that we do. But I told him I might not be able to do some outreaches in the next couple months because I am having knee surgery this week. He asked if they could pray for me and they did. He got down on his knees and laid his hands on my knees. Then there was what appeared to be a couple who came. He was a solid believer. She was very shaken by what we were discussing. But I got to share the Gospel with her and she listened intently. She ultimately took a copy of my booklet. The guy told me that she is his little sister (probably 30 years old) and was devastated by the tragic death of their brother. He also told me how he nearly lost his leg in Afghanistan but was miraculously saved and now can minister to his sister!
Each year when we do this outreach we partner with the Gospel for Asia School of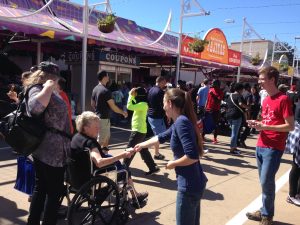 Discipleship. My passion is to teach others to share the Gospel. And this is a great opportunity to equip and encourage these students. While I was talking to one of the students she was telling me it was her first time away from home and how her mom would love to see what she was doing. So while she was in a conversation with someone, I snapped a picture on my phone. Afterwards I showed it to her and we texted it to her mom! The student testimonials about the outreach below truly inspire me.
When some of my fellow students and I arrived for our turn to help out at the booth, one of the workers approached us with an optical illusion Gospel tract. I was super encouraged by this! I was able to see how he brought up the topic, and how confident he was in what he was talking about. Once he learned that we were there to help out, he gave us good advice on how to use the Gospel tracts while witnessing. During my time at the booth, I was able to hand out several stacks of Gospel tracts to people who were just passing by, as well as share the complete Gospel with several different people. Although not everyone responded well, I know that His Word will not return void! Even though no one made a decision to follow Christ right then, I know that many heard the truth. I'm so thankful that I was able to be a part in helping spread the Good News to the lost! – Kristina, Student at Gospel for Asia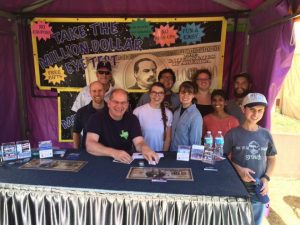 Before our group handed out tracts and we were just walking around the fair I felt a burden for 3 people that I saw with tattoos and piecings like me even a guy sitting on a skateboard that had no legs! And the Lord brought all 3 of them to me as we handed out tracts! 2 of them took them and the one walked on by. But God did it! Praise Him! – Benjamin – Student at Gospel for Asia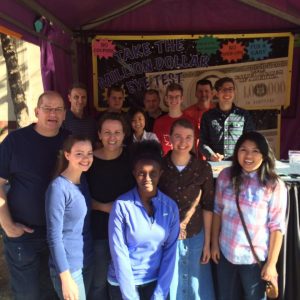 This is the second year that I had the pleasure of being part of this outreach. I have seen God moving so much especially in the people that He prompted to stop at the stand and also in my life. I spoke to one gentleman who was hanging on every word spoken by Gary and myself about Christ. You could see that he was crying out to Jesus and the hope that He gives. Praise the Lord for directing our conversation as we were able to share something that was exactly what this guy needed to hear given his current situation. We were also able to pray for Him as a family of Christ after he left the booth and ask our Heavenly Father to keep working in his life. Last year I had the opportunity to give out countless Gospel tracts, I was very nervous about speaking to people. The Lord over the last 12 months has given me more boldness and confidence to proclaim the Gospel and stand firm in the reason for my hope in Jesus Christ – whoop whoop for the Holy Spirit! – Leanne – Student at Gospel for Asia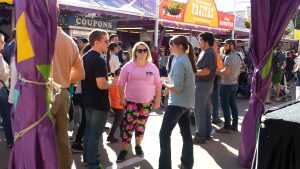 Leanne and I had a good conversation with Courtney, Derek, and McKenzie. They were each in different places. Courtney said "I don't know anything about God." Derek said he used to go to church, but now. McKenzie said she goes to church, but admitted God was not number one in her life. They were so open, so ready to receive. We shared the truth that we have a creator, all of this came from somewhere. We have all broekn the law and need a savior, which is why Jesus came and died on the cross to pay our debt. We read from John 1:14 "And the Word became flesh and dwelt among us, and we have seen his glory, glory as of the only Son from the Father, full of grace and truth." Courtney had no Bible and accepted a Gospel of John. Each one had a prayer request, we linked hands and prayed together. I'm believing the Lord, His word does not return void. Holy Spirit, we invite you to convict, to confirm and to comfort each of these precious young people. Reveal the truth to them, in Jesus' name. – Shawn, Staff at Gospel for Asia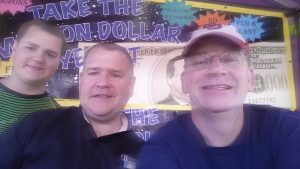 During my shift at the fair, I had about 5-7 good conversations with people, including one right off the bat with a member of the LDS church. Later on, I talked to two teenage girls, Gloria and Hannah. Hannah was a pastor's kid but called herself an athiest. Gloria believed she was getting to Heaven by good works. So I brought them through the 10 Commandments and kept emphasizing just how much Jesus loves them, even though He's always known that they, along with the rest of the world, would turn their backs on Him. I told them there's nothing they've ever said, thought or done, or ever will do, that can seperate them from the love of Christ. Pretty soon both of them were tearing up. I explained to them how they don't have to wonder about where they'll spend eternity, that instead they can *know* where they'll spend eternity. I asked them if it all made sense and if they saw their need to make a choice. They agreed and I prayed for them, and then told them to talk with the Lord on their own as soon as possible. Both of them were smiling as they left. I left them with my email; so who knows, maybe I'll hear from them again. – Kendra – Student at Gospel for Asia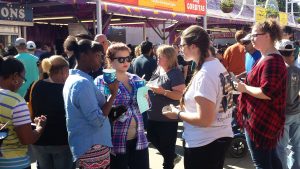 I was so excited to be able to hand out tracts the entire time I was at the fair and really just got a heart for each person that passed by. Knowing that these are seeds that God can use – it was so amazing. There was this one guy that really stood out to me because he looked a lot like one of my friends – but he was walking the opposite – and I prayed that he would hear about Jesus somehow (since I couldn't go talk with him) – after an hour went by – the same guy came by the booth and got a Gospel tract – the Lord answered my prayer. I don't know what that tract is going to do in his life – but I have been praying for him a lot – God can do mighty things. – Emily, Student at Gospel for Asia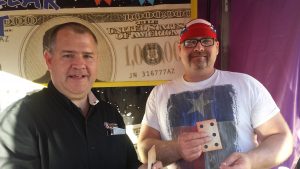 First let me just say it was an amazing experience! It's such an honor to serve the Lord in this way. I have personally enjoyed learning to share about the Lord an being used to spread the good news of the Gospel. When we first started handing out tracts at the fair like every other time I have evangelized, I was a bit nervous and timid. But once I got going time just few by and I had been working for about two hours! As I was handing out tracks I would run out of the ones in my hand and would go back to the booth to get more. The theme was "The million-dollar question" which I knew how to present if someone were to ask, of course the Holly spirit is the one who really gives me the words to say. So when I went to get another handful it was a different sort of tract which asked a question about hell. I didn't really make the time to read it because my goal was to just to hand out the tracts. I guess my mind set was little off and caught up in just the busyness of what we were doing. But God wasn't ready to let that stop Him from using me. As I was passing these "different" tracts out (the ones I hadn't read) an Asian lady stopped to talk to me. She asked "what does it mean" showing me the tract I had handed her. It was at this moment I can say the Holy spirit interceded on my behalf (as the Bible says he does in Romans 8:26 ). He gave me the words. Since I knew the card obviously talked about hell I asked if she believed in hell and also if she believed in heaven to both of which she said yes. Then I told her about heaven being where God lives a perfect place where no sin can be. God is good and perfect. I talked about how only God is perfect and we are not and are called sinners. I then asked if she considered herself a good person one who doesn't sin, to which is replied "yes". I went through three of the ten commandments and it wasn't till the third one that she agreed that she has broken that commandment which was a sin. Then I started explaining the salvation story starting with sin. It amazed me how intently she was listening and seemed really she wanted to know the answers to her question. About this time her friends or family came and said she had to leave, then she was gone. I was stunned for little bit that the Lord had used me to plant a seed and that the Holy spirt had interceded for me as He has promised! I thanked the Lord He had used me, flaws and all to plant that seed. I Kept on passing out tracts the rest of the time and knew in my heart no matter how nervous I am or think that I am not quipped, the Holy spirit has already made me equipped to "go forth and preach the Good New" – Mark 16:15. Praise the Lord! He is working through evangelism to help me trust in Him more and let him use me just the way I am! – Soni, Student at Gospel for Asia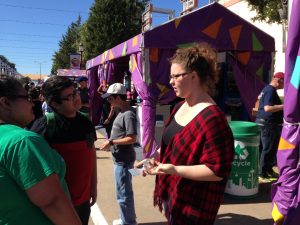 This has been my 4th or 5th year out sharing the Gospel at the booth with GFA's School of Discipleship and y'all. I am so thankful for Bezeugen ministry and the Full Gospel Business Fellowship allowing us to participate each year. Praise the Lord for all of them! I love getting to see the students excitement as they get to share truth with people. All of them went away from the fair encouraged in the Lord and what He did through them. They were talking about all the conversations they had on the ride home. One of the young ladies in my group had the biggest smile on her face when she told me this is the first time she has ever actively shared the Gospel and that the Lord helped her to talk with many people. She didn't seem to want to stop once she started. I am thankful for the tools that we are equipped with at the booth. The million dollar question is a great engaging way to have conversations with people about what really matters. I had some conversations with people who didn't know where they will spend eternity and some that weren't sure. I got to share how they could know for sure by placing their trust in the finished work of Christ. One lady I spoke with who was a believer seemed encouraged to use her life to bring others with us to the great banquet! Another lady I spoke with wanted to know what the booth was about because she was an eye doctor, so I got to talk with her about the value of her soul and about her eternal future. It has for sure been one of my favorite days of the year! – Andy, Staff at Gospel for Asia
Saturday, October 22nd, our family had the privilege for the first time of helping at the FGBF booth. I am so grateful for this "Light source" in the midst of a huge throng of needy people. A young single mother by the name of Amber came to the booth with many questions about how to deal with current events in her life. After Scott and I spoke with her for awhile, she showed evidence of a grasp of Scripture. She shared with us her previous profession of faith in Christ. Recent church and family situations had brought confusion and many questions to her mind. It certainly appeared to be a "divine appointment" as we pointed her to Christ and His Word, giving many verses to meet her fears, questions, pain, and worry. As she heard this truth, we could see her countenance change. We prayed God's blessing and protection around her. Several members of our family were able to pass out tracks to the folks passing by. I enjoyed watching them read and consider the message on the back as they continued walking. The crowds later in the day increased dramatically. My daughter, Faith, really enjoys passing out tracks. Her favorite is the one with the thermometer on the front, asking "On a scale of 1 to 10, how do you measure up?" We are grateful for the freedom we still have to give out the Gospel, and look forward to helping again next year, as the Lord wills. – Keith, member of Rockwall Bible Church