Are you interested fulfilling the great commission, but feel unprepared? Are you involved in Evangelism, but would like to learn more? Have you been to our Basic Evangelism Training Seminar but would still like to learn more?
The School of Biblical Evangelism text book offers 101 lessons in evangelism. It can be a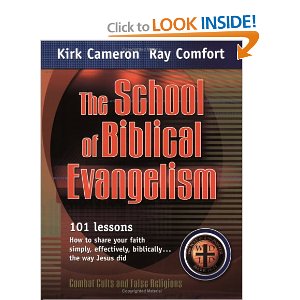 bit of a daunting task to cover this material on your own. Going through the material with a small group of people in your area is ideal. But, sometimes it is not possible, to find others that are close to you that are able to go through the material with you.
We have a group that will be starting through this material with the goal to cover one lesson a week. This is a journey that will last for approximately two years. Those of us that are here in North Dallas will meet at noon on Tuesday's at Stonebriar Mall in Frisco to discuss the material and evangelize at the mall. We will discuss lesson 1 on Tuesday, November 1st.
You can order the School of Biblical Evangelism textbook from Amazon.
If you are not local to the area but would still like some encouragement and accountability to cover the material, we will also be hosting a discussion of the material on our Yahoo! group bezeugen-sobe. You can subscribe to the group with the form below. Each week we will send a reminder of what lesson we are on and encourage online discussion of the material.