On Friday, August 25th, Hurricane Harvey came ashore along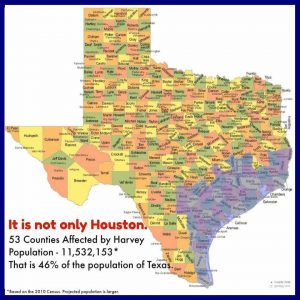 the Texas coast as a category 4 Hurricane with a direct hit at Rockport, TX. The storm has dumped record amounts of rain across southern Texas and caused catastrophic flooding like has never been seen in the area in modern times. While Houston gets most of the focus on the media, nearly 46% of Texas residents have been impacted. Some entire towns are under water. Today the storm came ashore again and is currently making its way across Louisiana. More flooding is likely.
Members of the Bezeugen Tract Club have been impacted by this storm. At least 11 of our tract club members are in southern Texas around Houston, near Rockport and over to Beaumont. There are other tract club members when you stretch the area out to San Antonio and Austin.  More than 40 tract club members are in Louisiana. Maps of tract club members in southern Texas and in Louisiana are included here. Please keep these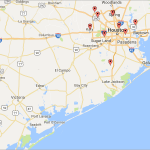 members of our tract club in your prayers for their safety. While we have been in touch with a number of our tract club members by phone, email and text messages we have not heard from all of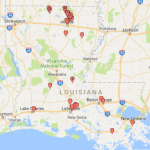 them. We simply don't know about their personal impact or needs. If you are a member of the Bezeugen Tract Club and have a need related to the hurricane please call us at 802-393-8463 (80-BEZEUGEN)
Bezeugen is located just north of Dallas. To give you an idea of how big Texas is, this devastation is nearly 350 miles from us. Here in Dallas people are rallying support, buying needed supplies and donating them. Many organizations are collecting money to route for disaster relief.
"Dear children, let us not love with words or speech but with actions and in truth." 1 John 3:18
We at Bezeugen Ministries understand that you our Bezeugen Tract Club members and ministry partners may want to help out. At this time we do not know of any specific personal needs within our tract club membership. Rather than create "yet another fund", we felt it would be wise to direct you to several funds that we know about. Therefore if you'd like to make a donation to disaster relief we would encourage you to prayerfully considering to one or more of the following:
There is no doubt that the relief efforts in Texas and Louisiana will be ongoing for many months. There will be opportunities to server hands on. And additional supplies and financial support will certainly be needed. Your prayers are also critical. As we hear of opportunities to serve we will provide additional updates.
God Bless,
Bezeugen Ministries Board of Directors.