The NBA Western Conference Finals started in Dallas last week. We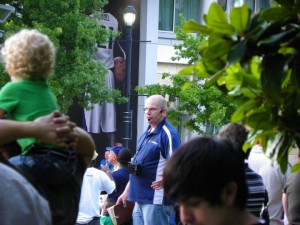 had the opportunity to go and share the Gospel at Games 1 and 2 between the Mavericks and the Thunder. Big events are fun times to be apart of the electric atmosphere where everyone is all "a buzz" about who will win and by how much. It is a bit different from a regular season game, because there is much more on the line.
While open air preaching at the stop light prior to Game 1 on Tuesday night, I was able to remind people that 100 years from now, this game will be a distant memory in some history books and that no one who is in attendance will actually remember what happened. However, it is also a good reminder that 100 years from now each and every person will be in one of two places – Heaven or Hell. So we go out to these events preach the Gospel and warn people to repent.
Between the two games, we probably handed out 2,000 Dallas Mavericks Trivia tracts. While these big events are fun and exciting and an opportunity to reach thousands of people with the Gospel, what I've found is that the events make me more aware of opportunities to reach people every day "as I go". Even while returning from the event, we had the opportunity to talk on on one with several people.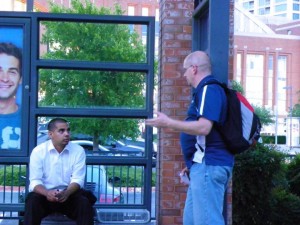 Since I've been doing evangelism, I've found that doing an event makes me more conscious of the people in my every day life that are dying and going to Hell. Perhaps you don't feel called to go and stand on a box and read the Bible or preach a message. Perhaps you don't feel called to go stand on a street corner and hand out a thousand tracts before a ball game. Don't get me wrong, if you are called, then go. But if you aren't then don't. However, I believe that Jesus' words in Matthew 28:19 are for all who call themselves believers in Jesus Christ.
Go therefore and make disciples of all nations, baptizing them in the name of the Father and of the Son and of the Holy Spirit,
The motto of Bezeugen Minsitries is "as you go" and is taken from this verse. Jesus is literally saying "as you go" make disciples. An easy way to do that is the hand out Gospel tracts. I believe that everyone who calls them self a Christian should be able to do that. Enroll in the Bezeugen Tract Club. We will send you 30 FREE Gospel tracts per month along with the encouragement to hand out one each day. Come to our Basic Evangelism Training Seminar and learn to over come your fear of man to share the Gospel one on one. Even if you don't feel like participating in an event, I invite you to come and see what we are doing. Hand out some tracts. Take some pictures. Or just pray for us. Your presence would be encouraging. See if the Lord does not work in your heart to develop a compassion for the lost to share the Gospel with them.
Game 5 is Wednesday night in Dallas. We plan to be there. If you live close by and would like to join us, please contact me and we will work out logistics.