I have lived in Carrollton (Texas) for nearly fifteen years. I have always considered it to be a "Christian" community. Yet it is becoming more and more diverse. On a recent bike ride one evening with my son, we went past the Islamic center and the parking lot was full past capacity and overflowing into the DART transit center across the street. I stopped and asked two women who were leaving if something special was going on. They said, "no, just our daily prayer time."
The Muslim community is dedicated to praying three to five times a day — to a false God. Mosques are offering "Explore Islam" seminars. Jehovah's Witnesses and Mormons are sharing their false beliefs (and false Jesus) regularly, on the streets and door-to-door, right here in our neighborhoods. Christians sit idly by. Their neighbors and friends need the Gospel, yet Christians cling to a "private" faith. What can we do to disciple Christian believers to share their faith with dedication, energy, and love?
Perhaps you live in Carrollton or another city in Texas. Perhaps you live elsewhere, but yet see the same things going on around you church and home. It is time to take action. It is time to win Carrollton for Christ! It is time to win your community for Christ too!
Two years ago, I began a door to door evangelism campaign in Carrollton. I've been to nearly 2,500 houses. In May 2010 after the National Day of Prayer we decided that one day of prayer per year for our nation and city is not enough, so we started praying at City Hall the first Thursday of each month. This is a call to join us in Prayer, Learning to evangelize effectively and then Going like Jesus commanded  – a Three Step Approach. It has been working powerfully in my own life – and so I continue to invite others to join me.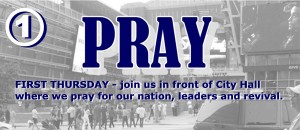 The first step is to pray. In Matthew 9:38, Jesus said, "Ask the Lord of the harvest, therefore, to send out workers into his harvest field." The great commission starts with prayer! Following the National Day of Prayer in 2010, we started meeting at City Hall in Carrollton, TX to pray every First Thursday for our nation, leaders and revival. We have now expanded this to pray any time from noon on the First Thursday throughout that weekend at the City Hall (or State or National Capital) near you. Each month we will provide you with suggested verses to use in your prayer meeting. For more information see the First Thursday Day of Prayer page.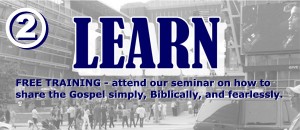 The second step is to learn what to do. Jesus said, "Therefore go and make disciples of all nations" (Matthew 28:19), but how do you do that? Many people are afraid. Afraid of not knowing what to do or say. Afraid that someone will ask them a question that they do not know the answer to. Do you have people in your pews who want to be witnesses, but are afraid? Do they rely on "professional church workers" to tell others about the Good News? Would you like to know how to be a witness wherever you go? Our two-hour Basic Evangelism Training Seminar helps to equip believers in Jesus Christ to share their faith – simply, effectively and most of all Biblically.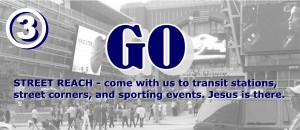 The third step is to Go! This is a step of obedience.  Yes, the fear may still be there. But once we have prayed and learned we step out in faith to share the Gospel with the lost. With the final step of the learn, pray and go strategy, we are hosting outreach opportunities and doing door to door evangelism in and around the community. We invite you to join us.
Our ministry is not looking for money – we're looking for people. People to Pray. People to Learn. People to GO and share the Gospel – with their own witnessing "lifestyle."
A small poster showing the three step Pray, Learn and GO strategy is available for download. Would you please post this and share it with your church? If you know someone that would be interested, please put them in touch with us.
We are rolling out this Pray, Learn and Go strategy in Carrollton, TX. We would be glad to have you join us. If you don't live in Carrollton, we'd be happy to talk with you about starting it up in your community.
Can you imagine a day when there is prayer at every city hall, every state capital, every national capital followed by Biblical evangelism in each community to reach the lost for Christ? I can. There is a map available of those communities that are participating. Will you join us?
For more information or to get involved, please contact us or simply complete the form below.