Here are some suggested resources to equip you for open air preaching.
Amplification
There is a quote that goes "preach the Gospel at all times, when necessary, use words." That quote actually makes no sense because without words there is no Gospel proclamation. Instead, I've heard the quote restated as "preach the Gospel at all times, when necessary, use amplification".
We have found that the Aker 2800 makes a nice amplifier for many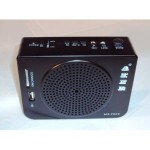 situations. It is small and easily portable. It has a neck strap to hang it around your neck. Due to the size it fits nicely into a backpack. At the time of this writing, you can pick up an Aker 2800 on Amazon for $82 with free shipping.
We have also used the Behringer EPA40 PA System with some good success. Although the battery in that amp can be a bit lacking, we have found that with some slight modifications to the case a replacement battery can be obtained for about $10 giving new life to the Behringer. For more information on this amplifier please see this BLOG post. We found a headset that can be used with the Behringer at Radio Shack.
Stool
There are a number of stools that you can use for preaching. Having a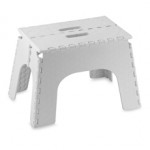 little elevation draws some attention to your preaching and brings people to listen. We like to use a small portable stool that we get at Bed Bath and Beyond for under $20. Because it folds up, it will also fit in a backpack.