September 28, 2015 Carl Bookmark, Fried at the Fair, September 2015, Tract Tracker, Who do you say that I AM
Day 28 of the Tract Tracker contest. Starting the day, I have three tracts remaining from the September mailing of the Bezeugen Tract Club – Cancer Awareness, Play by the Rules and a Bookmark. if you are participating be sure to complete the tract tracker and then be ready to return it to the ministry on the 30th.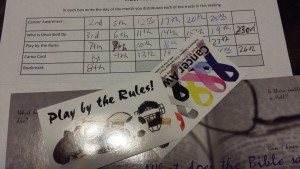 At lunch I met Craig in the Dallas West End for some witnessing. This is one of our favorite fishing holes. There are always people there milling about and waiting for the train or bus. So it is easy to approach them, hand them a tract and then share the Gospel with them.
I had an assortment of tracts with me including Fried at the Fair (which is popular this time of year with the Texas State Fair now in its first full week), Dallas Cowboys football schedule tract and a new version of the Who do you say that I AM that will be in the November mailing of the Bezeugen Tract Club.
Many people took the Cowboys schedule tracts. I had several good conversations with people with the fried at the fair tracts. Those conversations go like this. Can you name 10 things fried at the fair. Regardless if they do, then ask "can you name the Ten Commandments?" I had two teens tell me that they could not name the Ten Commandments, but one boasted that he could name 20 types of weed! They both claimed to be Christian. I reminded them that the Bible says not to be drunk, but to be full of the Holy Spirit!
I gave out the bookmark that is pictured above along with a New Testament to a young lady who listened very intently to the Gospel. After a brief conversation that started with the Fried at the Fair tract, I asked if she had read the Bible. She said no. So I asked if I could show her a couple things. She agreed. So I sat down next to her on the bench where she was sitting, opened the New Testament and walked her through the questions. She took the New Testament and bookmark and thanked me for my time!