September 30, 2015 Carl Cancer Awareness, Fried at the Fair, September 2015, Tract Tracker
September 30th! The last day of the Tract Tracker contest. I completed my Tract Tracker by giving the last tract – a Cancer Awareness tract – to the cashier at a restaurant at lunch! I also left a Fried at the Fair tract on the table. Here is the completed form!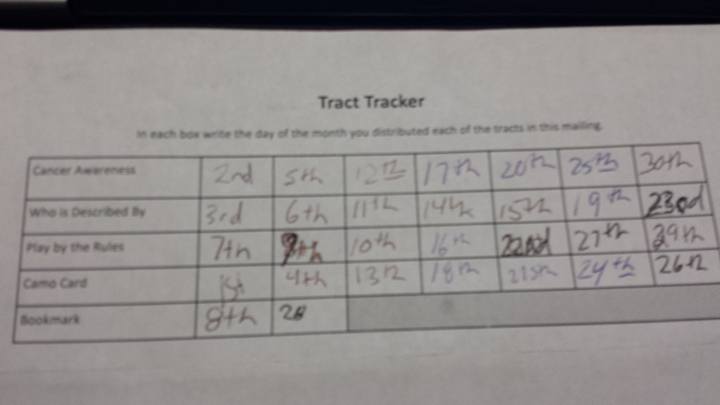 If you have participated in the Tract Tracker contest, now is the time to return the tracker to the ministry. You can contact us mail the form to:
Bezeugen Ministries

PO Box 117822

Carrollton, TX 75011-7822
As the contest comes to a close remember that the real goal of the tract tracker is to make witnessing a daily part of your life. You might like to join the Everyday Club mailing list or the Facebook Group. If you are not already a member of the Bezeugen Tract Club you may like to enroll to get 30 FREE Gospel tracts per month! Check the October mailing for the next tract tracker!
I gave out a few more tracts this evening when I met my wife for dinner including leaving two on the bulletin board at a restaurant.