Day 6: Trip to Farmers Market
June 6, 2015CarlAs You Go, June 2015, tract distribution
Today I was able to share the Gospel with a number of people. Saturday started like most – with Bible study and prayer at church from 6:30-8AM.
As we left, myself and another friend were in the parking lot talking when a car pulled up and two guys came over to us. They said they were with Spring and asked if they could get into the building to work on something. Since I did not have the authority to give them access to the building I made a quick phone call and got permission. Then I asked them each what their plans were for after work. They told me. I then asked what they planned for tomorrow, the next day, next year. You get the picture. They had a few things that they had planned. So I asked the really important question, what plans do you have for 100 years from now. They did not really want to talk much. But they had come to our church so I figured they should hear the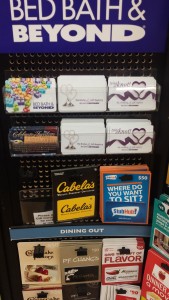 gospel. I gave them each Bible bookmarks and asked them to look up the verses and answer the 10 questions.
My wife and I made a trip to two Farmers Markets. The first stop however was at the RaceTrac to refill our #sodapalooza cups with iced tea. One of the associates was working near the drinks. I asked if he liked NASCAR. He said he did, so I gave him the NASCAR trivia tract. He said thanks and I asked him to check out the message on the back.
At Farmers Market I was able to give tracts to a number of people. One lady had the name of her farm based on what I assumed was a Biblical reference. So I asked and I was right. I shared a tract with her and then asked her if she'd like some more to give to her customers. She said yes and took a stack of tracts. It is encouraging when other believers will take tracts to give out.
I was also able to hand out a number of tracts at lunch and at a quick shopping stop. Along the way today I also found two "business card' and "gift card" racks where I left some tracts.