Day 10: return address envelope
June 11, 2015CarlAs You Go, June 2015, tract distribution
I went to work and came home without coming in contact with anyone to hand a tract to. So I took some business reply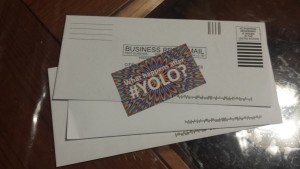 envelopes that had come in the mail and put tracts in them including one of the #YOLO tracts from the June mailing of the Bezeugen Tract Club and then put the envelopes back into the mailbox to go out.
Business reply envelopes are a simple way to share the gospel.
After going to the mailbox my wife and I decided to go out to dessert. At the ice cream place I had the opportunity to give out about 10 more tracts. Then we went to Dave & Busters to hand out some tracts. While we were there we played some video games, air hockey and skeeball.
We are now 10 days into the month. The table below summarizes how many of the  June tract club mailing tracts have been distributed so far.
| Tract | Distributed | Dates |
| --- | --- | --- |
| YOLO | 2 of 7 | 4, 10 |
| Thank You | 4 of 7 | 1, 2, 8, 9 |
| Are you a Good Person? | 1 of 7 | 7 |
| NASCAR Trivia | 3 of 7 | 3, 5, 6 |
| Bookmark | 0 of 2 | |